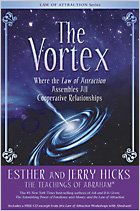 CLICK HERE to Join this YOFA Study Group

CLICK HERE for the Official Abraham-Hicks Website
In The Vortex, Abraham uncovers many of the flawed premises that we tend to live by. These distort our sense of how to navigate through life and often lead us away from what our heart desires.
Flawed Premise #1 is on page 13 (paperback). I invite you to contemplate this statement and it's relationship to your inner guidance. In fact, you may read that first flawed premise and say, "Nope, not me, I don't have that one."
Before you completely dismiss this, consider how you can increase your awareness of your inner guidance by more fully correcting this belief.