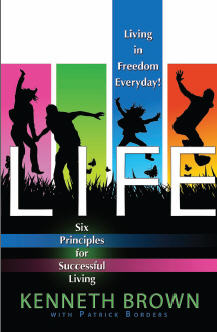 Kenneth Brown's promotin for his new book LIFE – Â Living in Freedom Everyday is today. Get lots of free goodies when you buy the book today only.
___________
Six simple steps to greatness that will turn your life around!
Kenneth Brown is offering a simple, well-laid-out roadmap to achieving your God-given greatness.
The popular Life and Business Coach, author, and speaker Kenneth Brown has just released his second book, "L.I.F.E – Living In Freedom Everyday". (What could be better than that?)
Kenneth is giving away a number of free goodies (be sure to look for mine!) when you get his book… and get your copy TODAY, while there's still time to get in on the Big Give-Away!
http://www.livinginfreedomeveryday.com/book/