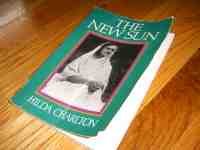 NYC used to be my home.
I lived in the city during intense parts of my life and a big segment of my spirit stays there. But now, I rarely go.
Well, on Friday, I got on the train, rolled into Penn Station, and started walking down 7th Avenue. The energy of the city greeted me like an old friend and I began an affirmation that went something like this: "God is helping me in every moment of every day."
After about half a block of that affirmation, maybe even less, I turned my head, and there, on a table of used books, was a familiar image of my teacher from so many years ago, Hilda Charlton.
In all my years of wandering the city, I have never seen one of her books out for sale. It can be hard to find them in a bookstore, no less out on display on a busy street. I knew this was related to my affirmation, and $5 later that book was in my bag and a big smile was on my face.
The book is called "The New Sun" and you can get it at http://HildaCharlton.com if it doesn't just manifest in front of you.
Once you get the book, you can flip to page 45 and read the poem to a "Smiling Stranger." Hilda says:
"How few in this hurly-burly of modern life pause to see God's loving creation and His perfect image of beauty in the passerby…Greet all with a happy smile of inspiration and say to yourself, "Everybody, I love you.'"
Would you like me to highlight more of Hilda's messages here?
Let me know by leaving a comment below.
I think this book appearing on my physical path through the sea of passersby on 7th Avenue was a nudge in the direction of sharing more Hilda with you.
Let me know if you're interested.
Everybody, I love you,
Rebbie
http://YOFA.net
http://AlignmentforHealing.com
http://RootedintheInfinite.com
Get the f ree eCourse "7 Secrets for
Manifesting Your Heart's Desire" –
You'll get the first lesson
Instantly: http://yofa.net/7secret.html