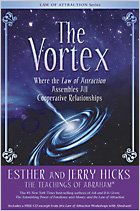 Monday, October 5, 2009
5:30 PM Pacific / 8:30 PM Eastern
Find Your Time Zone Here
CLICK HERE To Register
by Joining the Study Group
The new Abraham-Hicks book The Vortex offers a precise understanding that can dramatically improve our lives. And it is simple: We consciously decide to pay attention to the relationship between the two Vibrational vantage points within us.
Two Hums
Right inside of you, at all times, there is the hum of what you are thinking about:
your financial situation
or your partner (or the lack of…)
or your body
or your job
or your car
or your home
or your parents
or your children
. . . and there is also the hum of what your Inner Being is thinking about those same subjects.
When those two hums are harmonious like a choir, you feel good.
When those two hums are divergent, clashing, and sound like a radio pulling in two stations at the same time, one with your favorite song playing and the other with a negative news bulletin, you feel bad.
And so, this book points to a very clear priority for us.
Our job is to pay attention to how we feel (easy!) and to take to heart the old Abraham-Hicks adage, "Nothing is more important than that I feel good."
Why?
Because when I feel good, I am in alignment with Source. When I feel bad, I am not.
Live Call
I promised a live call for this study group and I'm really looking forward to connecting with you on the phone.
Study group members will automatically receive the dial-in details. No need to sign up again.
This call is free and open to anyone interested in this book. Simply join the study group. You will get announcements when this study group section of the blog is updated and you will get invited to any future teleconferences.
What is the topic of the call? You tell me. Please leave a comment below. What would you like to talk about when we meet on the phone?
With Love and Appreciation,
Rebbie
http://YOFA.net
http://alignmentforhealing.com
YOFA is based on the book "Rooted in the Infinite"
Find out more at http://RootedintheInfinite.com